Dencia is dragging Burna Boy into the rift corridor over his warning to Blac Chyna on her proposed visit this weekend.
Dencia took to the comment section of a blog (Instablog9ja) which had posted Burna Boy's message to Blac Chyna about her alleged plans to sell her bleaching cream products. According to Dencia, Burna Boy only promotes drugs and can't afford to hang out with Blac Chyna.
"So that nigga came out of his drug-induced coma instead of taking a shower to clean up his fart/Cig smelling looking ass he had time to talk about a woman? Hahaha for someone who promotes drug culture ‍♀️u can't even afford to be in the same Zip code as her sis Burna cuz only girls act like u, u can't afford her ass if she had to shake it, stick to the druggies on the side streets u are use to. Sending love & light ur way on this thanks giving we are thankful u making it alive living this high life," she wrote.
She went on to accuse the music star of his silence when other companies launched their products in the country.
"I didn't see this energy when fair and white launched their products In Nigeria, the then NAFDAC boss even attended, blogs who posted it wanna talk shit now. Whew, Chile the hypocrisy, wait nvm fair and white is white owned," she concluded.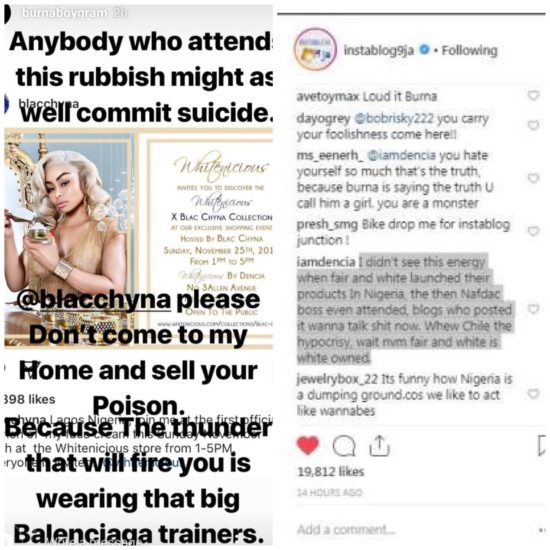 Bobrisky also clammed up with Dencia to fuel the rift with Burna Boy. The attention is not necessarily unwanted as it'll give bloggers good business and provide entertainment for the fans and public.